Shula Shek Jewellery * Kibbutz Beit Nir
---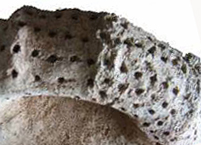 The historical excavations
in the Beit Nir vicinity have rendered their influence on Shula Shek
since 1963, when she started to design and manufacture jewellery.
The various forms incorporate mystical designs for luck, longevity and fertility.
The style is inspired by the culture and artwork of the civilizations
which have resided in the land of Israel during the last 5000 years.
Each piece is made from Sterling Silver and is signed with the artists trademark.
Each piece is handmade here on our premises in Israel
by our skilled craftsmen and women meeting our high standards.
Each piece can be purchased separately or as a collection,
all are being supplied in a presentation box.